How to Make Beer – Simple, Easy Way to Brew Beer at Home
Homemade beer is probably the most popular forms of homemade alcohol.  Many beer is one of the most popular alcoholic beverages, so it is only natural people would seek ought how to make beer at home.  Homebrewing technically refers to any type of homemade alcohol (beer, wine, mashes for liquor) but more often than not brewing beer is associated with the term. Keep on reading to find out everything you need to know about how to make beer!
The Equipment
To make your own beer you will need a couple of things.  There are some pieces of equipment that are essential, and some that are not but simply will make the entire process easier.
For a complete listing on all the products needed to make beer and how to get them cheapest click here. *I recommend buying a kit with everything included for those who have no equipment, trust me IT WILL SAVE YOU MONEY you can read a review on my favorite and most recommended kit here.
The Ingredients
The ingredients for making beer vary greatly depending on the kind of beer you are brewing.  You will need to buy the ingredients for the kind of beer you want to brew (lagers, ales, stouts, porters, etc).  These ingredients will often come in kits however you can also buy the brewing ingredients separately, check this kit out for a good kit to start with that will have all the ingredients you need to brew your beer and produce a phenomenal final product.
There are a plethora of kits that produce different flavors and styles, these are usually the best way to go about brewing beer because all the ingredients will come from the same place and are designed to work together and you know will give you a good end result with the flavor/style intended, you can shop around for types that intrigue you here.  Have fun and experiment! It is best and most fun to find a kit/type of beer that you like or you want to try; you will likely enjoy the process more!  Learning how to make beer should be fun and rewarding!
There are two main ways to go about buying the ingredients for making beer, with or without hops. However even if you use the "without" hops method you will get the taste of hops in your brew.  The difference is that one method you add the hops to the brew yourself and with the other method one of the ingredients (the malt extract) will come with hops already in it.  This article will go over both methods; for those starting I recommend that you begin by using a malt with hops and grains already included in it, it is simpler and will produce a great beer at the end, (both methods will).
Ingredient List
Hops (if you use an "unhopped" malt extract)
Water
Specialty grains (not always needed but some kits/recipes use them for extra flavoring)
After the ingredients and equipment are purchased and in your possession you are ready to start brewing your first batch of beer!  Brewing beer is actually very simple and can be done in 3 simple steps! Let's dive into it!
Step 1: Sanitizing
Before you do anything else it is crucial that you sanitize any and all equipment that will be in contact with your beer.  Doing this will kill any germs and contaminants which could disrupt the fermentation process.  It is absolutely vital that the fermentation process is not stopped early or prohibited as this will result in little or no alcohol in your beer and likely a very awful tasting product.  Trust me you will have to throw away your entire batch of beer (and all that money) if you do not sanitize your equipment properly.
This means you will have to sanitize anything in direct contact with your brew, fermenting containers, mixing spoons, airlocks, funnels, thermometers, hydrometers, etc.  Luckily it is very easy and quick to sanitize your equipment.  Just purchase a sanitizer such as this one (very popular among homebrewers and my favorite) and mix about half an ounce of the solution with about 2 or 3 gallons of water.  Then wash and soak all your equipment that needs to be sanitized with the solution.  If your sanitizer is a no rinse sanitizer (like the one in the link above) then simply dump excess water and leave the foam from the solution because it will not be harmful to your equipment.
*NOTE* You do not have to sanitize the brewing pot because you will be boiling in this and the boiling process will kill off any contaminants. 
Step 2: Making the Wort
The first step in making beer is to make what is called "the wort".  The wort is simply the mixture that becomes your beer after fermentation occurs.  Just think of it as the "pre-beer mixture".  This article is going to be for making a 5 gallon batch  of beer, so we will be making around 5 gallons of wort.
Mixing the Wort
The first thing you need to do is start heating up some water in your brewing pot, the actual amount of water does not matter exactly however you should keep track of how much you use, a good amount is between 1 and 2 gallons.
After the water heats up you can prepare your malt extract;  if your malt extract is from a can then it is helpful to put the can in some hot water.  The malt extract is very thick and the hot water can help to loosen it up and make it easier to pour out.
Once the water is boiling you can turn the heat to a low or take it off the heat.  If you have specialty grains you can start to steep them (like tea) into the hot water. If you are not using grains that is absolutely fine, just disregard this. Your specialty grains should come with a giant teabag which you can soak in the water for about 30 minutes.  After 30 minutes is up you can take the teabag out and let it drip into the water for another few minutes or you can just move on.
Next you will pour in your malt extract, 1 kilogram of corn sugar, and hops. Measurement of hops is dependent on many variables such as desired bitterness, type of hop, etc.  Read the packaging on the hops.   I'll say it again, It is much easier and simpler to use a malt extract with hops included for beginners.  Be sure to mix well with a spoon or other mixing device, you do not want the ingredients to fall to the bottom and burn.  Keep mixing until all the ingredients are dissolved and mixed well.
*NOTE* If you are using a canned malt extract make sure you get ALL contents out and into your wort, to do so simply add some very hot water into the can mix around a little and pour into the mixture, this should ensure all the malt extract is used.  
Step 3: Fermenting the Wort
 After you are done mixing your wort you are now almost ready to begin fermentation (the process that turns non alcoholic wort into delicious, alcoholic beer).  So let's get into fermenting your wort!
You now need to transfer your wort into your (sterilized) fermentation vessel. Now before fermentation can take place you need to cool down your (1-2) gallon wort to about 75 degrees, give or take a couple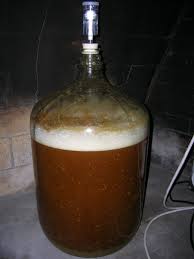 of degrees.  This is achieved by adding cool water to your wort, pour the water in one gallon at a time and keep monitoring the temperature.  There are very convenient adhesive thermometers that can stick onto the side of the fermentation vessel that make it very easy to keep an eye on the temperature.  You want the final amount of wort to be about 5 gallons.  So if you boiled 1 gallon of wort in step 1 then you want to add 4 more gallons of water to get the wort into the correct temperature range.
Once you have 5 gallons of wort in your fermentation container and the temperature is around the 75 degree Fahrenheit mark then you are ready to kickstart the fermentation process.  The magic ingredient in homebrewing is yeast.  Yeast is what turns sugars into alcohol.  So this is the point where you sprinkle a packet (or about half an ounce) of yeast into your fermentation vessel containing your wort. A
After the yeast is put (or "pitched" into your wort then you can put the top onto the fermenter and attach your bung and airlock.  And after you have done this fermentation is well on its way! I have attached a helpful video on airlocks at the bottom of this page if you are confused.
Now that fermentation is underway all you can do now is sit back and let the natural process occur.  In about 1.5 – 2 weeks fermentation the beer will be done fermenting and your product will be finished.  You can begin to bottle the beer or put it into a kegerator.
Congratulations on finishing your first batch of beer! Click here to learn how to bottle your beer!