How to Buy a Still
If you want to make liquor of any kind (moonshine, vodka, rum, whiskey, etc) then you will need to get your hands on a still.   However acquiring a still is not the easiest thing to do, you cannot go to Walmart and pick one up
*If you do not know what a still is then you should read this article first*
Now there are two ways to go about attaining  a still:
Buy a still 
OR…
Make a still (a good, safe one!)
In this article I am going to give my complete guide on how to buy a still.
I always recommend buying a still as opposed to making one because buying a still takes a lot less time (and often money) than making one and the still is much more likely to work!  I could tell you horror stories of people who have spent lots of time and money building stills that end up not working and sometimes posing a great danger.  Stills undergo a lot of abuse in the distilling process from the heat and pressure of the alcohol in the gaseous state, so it is very important that the still is made with a degree of craftsmanship.
So by knowing how to buy a still you will save yourself headache and you can buy a quality still on a budget!
* Although I don't recommend making one, there is information on how to go about making one.  A reputable author wrote a guide that is available through the below link.  But again, creating a still is somewhat of a risk so I have  chosen not to directly provide that information on this site. *
Answer the Initial Questions
When buying a still you need to consider a couple of things like:
How much money am I willing to spend?
What size of still am I wanting to get?
What kind of alcohol am I going to be making?
Do I want to assemble it myself or have it completely done and ready to go?
Buying a Still is Easier Than You Think!
It is perfectly legal to own a still, so there is no reason to worry about getting in legal trouble for purchasing a still.
In fact stills are relatively easy to find and buy. Due to the obscurity of stills (meaning they are not common everyday items) they are however hard to find at stores if not impossible.
Now, a number of years ago that would mean you would be forced to make your own alcohol still because it would be extremely difficult to find where to buy one.
Luckily, this is not the case anymore!
The internet makes buying a still very accessible.
If you are new to distilling and want to try making a few batches of moonshine (or some other type of liquor) I would recommend starting off with a "ready to go" still.  This means no major assembly is required. And all the necessary parts are included.
I would also recommend that the still be very beginner/user friendly.  In my experiences the best and easiest way is to find a still that can be heated using a stove top.  Unless you plan to make extremely large batches of homemade liquor there is no need for a huge still with a overly large capacity.
The benefits of this type of still are:
No need for special equipment/heating source
All parts of the still are included and in tact
Cost effective
Doesn't take up lots of space
Allows you to make smaller more reasonable and manageable liquor quantities.
Comes with an included 1 year warranty
Benefits of this Still:
The thing I like about this particular still is that it is a good size (12 Liters), includes everything you need to start distilling.  And even can be used as a fermenting bucket for your mash (it even includes a fermenting airlock!)    Also the price point is very affordable!
For anyone who is new to making moonshine/home distilling I would strongly advise looking into this still!
There is even a simpler, easier still out there!  And it if you don't mind sacrificing the "traditional style" of a still then it may be a great option for those who want to do some small scale home distilling.
This still made by Still Spirits is electronic still that looks like a small kitchen appliance.  It can make about a Liter of liquor in 2 hours and requires no work or monitoring once you plug it in!  This is by far the easiest still I have ever seen to run liquor through.  The only downsides are that it does require electricity and is not a traditional operating still, however it still will make you moonshine and other spirits so it would definitely be worth a shot if it interests you.  Click on the photo to learn more about it!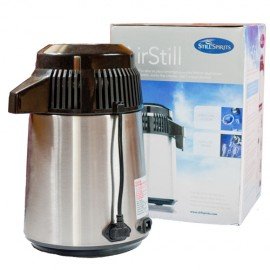 Buying a Traditional Copper Still:
NOTE: If you are looking for a still that is larger than the ones listed above but still in a relatively small and manageable size check this one out.
It has an 30 Liter capacity, is built almost identical to the one listed above and has a 2 year warranty!
Some of you out there may have already made liquor before and are looking to go to the next level in home distilling. This means larger, copper stills in most instances
At this point any still you get will likely have some additional set up required, and often require soldering.
However the benefit is that these stills will be more permanent, sturdier, and if cared for properly will last nearly a lifetime.  These are the truest form of stills.  These stills are the same kind that were used hundreds of years ago and are continued to be used my many distilleries.
Click on the photos below to read more about these copper stills!